Home
»
Our Products
» Ratchet Jacks
Ratchet Jacks
We supply high quality ratchet jacks, which come with clevis pins, clips and handle power coted finish. These are high in performance and replace most standard hydraulic cylinders. We have designed these ratchet jacks keeping safety standards in mind and reduce work hazards.
Levelling Assembly
We manufacture & export lift arm leveling assembly. Superior in quality, this leveling assembly offers many advantages over conventional equipment. Available in superior coatings, our leveling assemblies offer high performance and can be used for varied industrial requirements.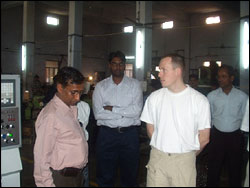 Stabilizer Arms & Kits
Our stabilizer arms and kits are known for their quality, performance and durability. Available with powder coatings, these are highly suitable for heavy duty applications. Economical in price, our arms and kits are useful for different applications and requirements.
Adjusters For Stabilizers
Our collection of adjusters for stabilizers is high in quality and efficiency and is suitable for a variety of models and applications. Plated with zinc dichromate these are high in durability and accurate in performance.
Stabilizers Assemblies
We present our range of stabilizer assemblies. Precision engineered, these stabilizer assemblies come with requisite features and specifications and are designed as per latest industry standards. We supply these stabilizer assemblies with special features to support varied applications.